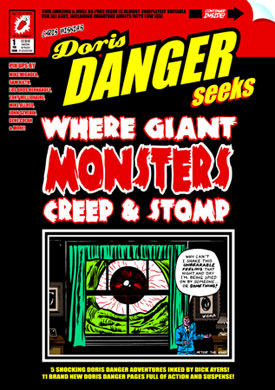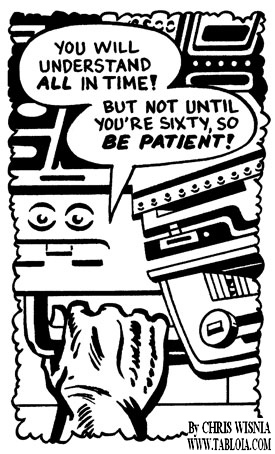 DORIS DANGER SEEKS WHERE GIANT MONSTERS CREEP & STOMP!
56 pages/B&W/Taboid-Sized 9x13&quot $9.95!
RESOLICITED!
BRAND NEW DIAMOND ORDER NUMBER: MAY07 3696
The book that's too big to be contained in a regular-sized comic! 56 HUMONGOUS 9"x13" treasury-sized pages of Kirby-style giant monsters! Collected from Tabloia Weekly Magazine: all five shocking Doris Danger adventures inked by Dick Ayers! All fifteen giant monster pin-ups by the industry's biggest names: Mike Allred, Thomas Yeates, Gene Colan, Sam Kieth, Irwin Hasen, Bill Sienkiewicz, Gilbert Hernandez, Mario Hernandez, Jaime Hernandez, Ryan Sook, Steve Rude, John Severin, Mike Mignola, Ramona Fradon, and Tony Millionaire! Infamous Tabloia letters page letters!
And that's not all! As a special bonus to you, dear reader, this issue also features eleven brand new pages full of action and suspense, an essay on the history of Doris Danger in comics, an introduction from noted humorist Ricky Sprague, and a monster-name word search! You can't afford to miss this issue!
REVIEWS!
Here's a nice review AND interview by Rob Kelly at treasurycomics.com!!
LT at ireadcomics.blogspot.com featured Doris Danger in her blog! Listen to Show #40 - Nov 3, 2006! (It begins about a third in!)
Glenn Walker sure likes Doris Danger! Click here to see how much! Just scroll down to "A Real Tabloid!"
Johnny Bacardi gave Doris Danger a B+! Click here to see why!
What a nice review from Steven Grant at comicbookresources.com. (Trouble finding it? Click on "archives" then "Wednesday February 8, 2006"
What an extensive review of Doris Danger's humongous treasury at comixfan.com!